Comedy Central Benefit for Rx Laughter Starring Ray Romano, Kevin James, Dane Cook and Host Megan Mooney. Sponsored by Adlink, Mervyn's and Good Guys
Special Thanks:
We hope that you have enjoyed looking at the photos on the previous two pages! These are the individuals and corporations who gave of their own time, energy and resources to help make this event so memorably funny!
Mervyn's:


Good Guys: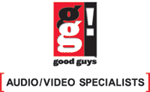 Thanks also to our 2003 Benefit Sponsors:
Comedy Central: Tony Fox, Joann Grigioni & the entire team at Comedy Central.
Adlink: Matt Brown, Maureen Bennett, Monica Lagos, Neveen Mostada, Andrew Tavoni, Emily Wassler.
Spelling Communications: Dan Spelling, Jason Grimley.
Mattel Children's Hospital @UCLA: Edward McCabe Md, Ph.D., and Lonnie Zeltzer M.D. & Kim Irwin of the UCLA Media Relations Dept. for the UCLA Jonsson Cancer Center.
We also express our gratitude to each of the individuals and corporations who volunteered in countless ways from start to finish. -- we are amazed at your talent and your dedication. We could not have done this without each of you:
(in alphabetical order):
Idea Asylum Productions: Shep Kaufman, President & the entire team.
Cyrani Ackerman of the Upstairs Studio
CLS Limousines
Creative Technology
Janet Daily of CBS Entertainment
Amanda Edwards of Getty Images
Jerold Franks
Hill Lithograph
Barry Katz of New Wave Entertainment.
Daniel Longmire of Longmire Photography.
Rory Rosegarten of The Conversation Company.
Jeff Sussman of Sussman Management.
UCLA Royce Hall Staff: Anna Cross, Steve Keeley. Phil Shofner
Many Thanks!!