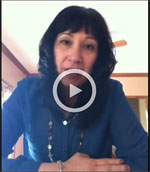 Mother & Son: comedy for pain management


Rx Laughter Mission & Goals:
Rx Laughter is a clinically oriented humor therapeutic and educational nonprofit organization that improves the lives of youth who are suffering with serious physical & mental health issues. We work closely with medical experts at hospitals and clinics in the USA to use humor as part of clinical treatment and recovery. We ask for continual feedback. Founded (1998) and managed by veteran ABC & CBS primetime programming executive Sherry Hilber. Rx Laughter is a 501c3 tax exempt charity.

Since 1998, Rx Laughter has used comedy and laughter to help brighten the lives of children, adults and families who are coping with serious life challenges. We began at UCLA's Jonsson Cancer Center, Mattel Children's Hospital and The Semel Neuropsychiatric Institute. Our lab research partnership indicated significant benefits to children. Simply put, when they watched comedy television shows and movies during a painful medical procedure, they were able to handle the pain better and with less anxiety to a significant degree.

Since then, Rx Laughter has created and launched various therapeutic and educational projects that use comedy to improve health and well-being for children and adults at several hospitals and clinics in California. Recently, we have expanded to the East Coast where we implement comedy into support groups for teens overcoming alcohol and drug abuse addictions.

Our newest and exciting project is the "Rx Laughter Performing Arts Students Pair Up" nationwide hospital program where we match performing arts students with children suffering with life threatening illnesses to bring laughter, comfort, joy, and pain relief to the children and their families.

For more information about our Projects, check Wellness Projects.

If you would like to help in our efforts, please see the Contact Us and Donate pages. Funding is used carefully for current and future project implementation. Donations of any amounts are helpful. Legacy opportunities are available for substantial donations.
Thank you so much for your interest in Rx Laughter.


Sherry Dunay Hilber
Founder and CEO
Rx Laughter
501c3 nonprofit corporation Tax Exempt ID 20 037 9277
Our Administrative offices are headquartered in California.
July 2, 2013