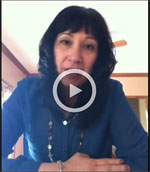 Mother & Son: comedy for pain management


Rx Laughter Overview - Our Nonprofit Mission & Achievements:
Rx Laughter is comedy therapy for the soul. We help people with serious problems find the funny aspects of daily life to regain emotional & physical balance. Less stress and anxiety have been proven to improve health and healing. Humor brings a fresh perspective and centers us, for healthier relationships.
We began in 1998 at UCLA's Jonsson Cancer Center, Mattel Children's Hospital and The Semel Neuropsychiatric Institute with a medical research project studying how comedy can help children who were having a painful medical procedure. Our results were surprising: Simply put, when the children enjoyed funny, uplifting clips, they were able to tolerate the painful medical procedure better. The children were able to go through the medical procedure with less pain - and their anxiety decreased. While preliminary, these results were solid enough for an outside scientific peer-reviewed medical board to approve it for publication in in the international medical journal Evidence-Based Complementary Alternative Medicine, October 2007. Laughter, Humor and Pain Perception in Children: A Pilot Study -- Stuber et al. 6 (2): 271 -- Evidence-based Complementary and Alternative Medicine

This motivated Rx Laughter to branch out into therapeutic care in various ways in the decades since. In 2000 we became a 501c3 public charity. Since then, we have used comedy clips to brighten mood, relieve pain and reduce loneliness in outpatient pediatric outpatient centers Dialysis, Infusion and inpatient Critical Isolation. Rx Laughter has implemented comedy workshops that share positive, upbeat ways of coping with conflict, stress, family issues and emotional issues as part of cancer recovery.
We are currently partnered with the Franciscan Hospital for Children in Boston, where we teach children and teens who are inpatients in the behavioral unit how comedy can be a coping resource. Harvard Comedy Society members and alum volunteer with Rx Laughter for this project. This is part of our new national Rx Laughter Student/Hospital Pair Up Program where we partner students of all ages with hospitals & mental health centers for therapeutic and educational care.
Some of our projects are described briefly at Wellness Projects. We have breaking and brief information on our projects on our Facebook page for the Public at https://www.facebook.com/contactrxlaughter More information can also be seen by becoming a Facebook member.
If you would like to help in our efforts, please see the Contact Us and Donate pages. Thank you so much for your interest in Rx Laughter.
Rx Laughter was founded by and continues to be overseen by Sherry Dunay Hilber, a veteran primetime programming ABC and CBS executive.

Rx Laughter is a 501c3 nonprofit corporation Tax Exempt ID 20 037 9277
Our Administrative offices are headquartered in California.
Home page last updated September 26, 2014