Donate thru
EbayGiving Works
100% to Rx Laughter.
Favorite us on eBay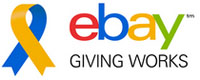 "Hidden within every problem lies an opportunity so powerful that it literally dwarfs the problem."
- Albert Einstein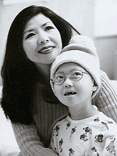 | | |
| --- | --- |
| Mother & Son: comedy for pain management | Rx Laughter Student/Hospital Pair Up: Thank you Blacksmill Elementary students (Cumming,Georgia 12/2014) |

Rx Laughter Mission, Values and Methods:

Brief Overview:
-Rx Laughter is a 501c3 public charity. We were founded in 1998 by ABC and CBS veteran primetime programming executive Sherry Hilber. We began as a laughter research charity for children with physical illnesses at the UCLA Jonsson Cancer Center, learning how comedy can alleviate pain and anxiety for children during a painful medical procedure. Based on the successful findings of this lab research, Rx Laughter has since expanded into therapeutic care to help children, adolescents and adults coping with trauma, depression, substance abuse, chronic illnesses and psychological issues that interfere with well-being. We develop "humor therapy" and "laughter therapy" projects for both short term and long term results. Our programs are volunteer-based. There is no fee for our workshops. We raise funds so that we can implement these programs to help people who are under-served and are in great need of comfort and support.

-Through the power of comedy, our goal is to help the individual recharge so that he/she can meet and face serious emotional and physical challenges with a renewed soul and spirit, leading to improved healing and long term well-being. The Rx Laughter workshops help patients regain self-trust and the trust of others, improve self esteem and self confidence and see the world through a more positive lens for a higher quality of life.

-We do this by using a combination of improvisational techniques, comedy clips of classic and contemporary shows, and stand up comedy "lessons" within a clinical setting in group workshops at mental health settings and hospitals. We tailor the program to meet the needs of the group that we are serving. We use age- appropriate, wholesome techniques at all times. We do not perform psychotherapy and we do not touch upon issues that will create anxiety or stress. Our volunteers come from the world of comedy and are experts in the techniques that they use with the groups that we help.


Rx Laughter - Physical Relief Therapeutic Care: (Laughter Therapy):
Laughing can produce immediate relief from pain and sadness. This is especially helpful in the short term, giving us a chance to recharge and renew from the exhausting emotional and physical effects of illness. We have implemented Rx Laughter therapy programs for pediatric patients to help them cope with serious medical conditions such as chronic pain, recovery from surgery, bone marrow treatments, critical isolation care, infusion treatments, addictions, depression, trauma, anger and anxiety. We relieve pain and offer freedom from the constant reminders of illness, pain and fear. This gives us the chance to be a "normal" person, to laugh, feel less alone, and to cope with the treatments with renewed energy. Our program is based upon our laughter therapy research collaboration with The UCLA Jonsson Cancer Center (see further below).


Rx Laughter - Psychological & Emotional Therapeutic Humor Care (Humor Therapy):
Humor therapy can be longer-term and can produce a new way of viewing a difficult situation, offering light at the end of the tunnel. A humorous outlook for those in support groups for emotional issues as a result of physical illness or trauma can produce longer lasting changes in thoughts, feelings and behaviors for improved coping and communication. Through our humor therapy programs, we help young adults with behavioral and emotional issues who are in support groups at mental health clinics. These children and adolescents are often struggling with issues such as anger, addiction, recovery from trauma and behavioral issues that interfere with healthy relationships. In sessions led by our volunteers, we use a variety of interactive techniques with one thing in common - they all use comedy as a way of opening the door to uncomfortable feelings and painful memories with a fresh perspective in a non-threatening, sensitive, compassionate way. Sessions are supervised by their clinician with the goals of new and healthier insights, perceptions, attitudes and behaviors.

Rx Laughter & UCLA Lab Project with Children: (Is Laughter the Best Medicine?):
- In 1999, we conceptualized, raised seed funding for and partnered with UCLA's Margaret Stuber MD and Lonnie Zeltzer MD on a medical lab research project at UCLA's Jonsson Cancer Center, Mattel Children's Hospital and The Semel Neuropsychiatric Institute studying how comedy can help children who were having a painful medical procedure. Our results were surprising: Simply put, when the children enjoyed funny, uplifting clips, they were able to tolerate the painful medical procedure better. The most interesting finding was that the children did not have to laugh out loud to reap the emotional and physical benefits of comedy. The enjoyment of the humorous videos was enough to produce the beneficial results! The children were able to go through the medical procedure with less pain - and their anxiety decreased. While preliminary, these results were solid enough for an outside scientific peer-reviewed medical board to approve it for publication in in the
international medical journal Evidence-Based Complementary Alternative Medicine, October 2007. Laughter, Humor and Pain Perception in Children: A Pilot Study -- Stuber et al. 6 (2): 271 -- Evidence-based Complementary and Alternative Medicine

- As a result of our laughter research findings at the UCLA Jonsson Cancer Center, Mattel UCLA Children's Hospital and Semel Neuropsychiatric Institute, we moved forward to use comedy clips in therapeutic settings to brighten mood, relieve pain and reduce loneliness. As mentioned earlier on this page, we brought laughter therapy to outpatient pediatric outpatient Dialysis, Infusion, ICU and Critical Isolation and more. We have since expanded to include many other forms of comedy techniques to alleviate pain and suffering and improve quality of life.

Present focus - 2015:
- Humor Therapy Workshops: We are currently partnered with the Franciscan Hospital for Children in Boston, where we teach children and teens who are inpatients in the behavioral unit how comedy can be a coping resource. Harvard Comedy Society members and alum volunteer with Rx Laughter for this project. We are including improvisational exercises and joke writing as a form of therapeutic humor expression this year.

-Laughter Therapy: With our new all-digital "Pair UP" Student/Hospital Competition, we will reach many more patients at hospitals nationwide. Through this program, we plan on reaching at least 1,500 patients in 40 hospitals, helping young adults who are too sick to leave their hospital room, are not comfortable being around others their age during their treatment, and who live in isolated, rural areas.

- We have breaking and brief information on our projects at our News-Project Updates page here, as well as on our Facebook page at https://www.facebook.com/contactrxlaughter.

More information is available to our facebook members. Some of our past projects are described in a bit more depth here, at Wellness Projects

If you would like to help in our efforts, please see the Contact Us and Donate pages.

Rx Laughter was founded by and continues to be overseen by Sherry Hilber, a veteran primetime programming ABC and CBS executive who was responsible for overseeing numerous scripted primetime comedy series (Roseanne, Home Improvement, Cybill) on behalf of the networks for over a decade.

Rx Laughter is a 501c3 nonprofit corporation Tax Exempt ID 20 037 9277 Our Administrative offices are headquartered in California.

Thank you so much for your interest in Rx Laughter.
---