Rx Laughter Board Visits Mattel UCLA Children's Hospital & Medical Center:
(Page 2 of photos)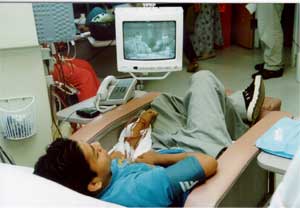 A teenage boy receiving several hours of outpatient dialysis treatments is watching a very funny scene (the soup scene!) from Abbott & Costello movies. Chris Costello (Lou Costello's daughter) is a member of the Advisory Board and is delighted that her father's films are being shown to patients. We thank you Chris, for your support of our work - people of all ages love Abbott & Costello -- we are so grateful!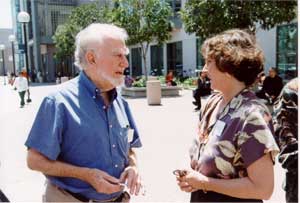 I Love Lucy Writer & comedy movie legend Buster Keaton's granddaughter: Robert Carroll Jr ("Lucy" writer, left) & Melissa Talmadge "Keaton" Cox swap funny stories, reminisce & get ready to meet the patients participating in the Rx Laughter Advisory Board tour. Lucy & Buster would be proud!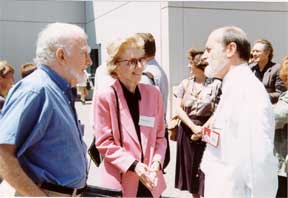 "I Love Lucy's" Bob Carroll & Madelyn Pugh Davis hang out with Peter Whybrow MD, Physician in Chief of the UCLA Neuropsychiatric Research Institute & Hospital & Executive Chair of the Department of Psychiatry & Bio behavioral Sciences at the David Geffen UCLA School of Medicine. Peter is on our Advisory Board - for video of his thoughts on the links between positive emotion & health, see our "Videos of Project" page.