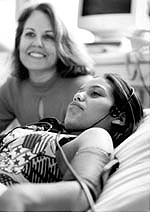 In 1998, I formed Rx Laughter in an effort to use my experience as a primetime network executive overseeing comedy programs to help people who are ill. My belief from childhood --and even more so during my tenure getting to know the "inside" world of the television entertainment industry --has strengthened my conviction that classic entertaining movies & shows help us feel better. This is something that we all know intuitively.
Great movies & tv create memories for us - whether it is "Seinfeld", "Friends", "I Love Lucy", "Shrek", "The Wizard of Oz", "Harry Potter", "ET" or the movies by legendary comedians such as Charlie Chaplin & other great comedians too numerous to mention.
We remember how we felt when we laughed, who we were with while we watched the movie or television program, and our discussions about our favorite moments with our friends, co- workers and our family.
After some especially upsetting experiences that I encountered personally with health care as an adult, I knew that I needed to leave the entertainment industry to devote myself to helping people who are sick by using funny movies & television in ways that haven't quite been used before.
This was the best way that I could "use" who I was personally & professionally in accordance with my values & beliefs about what I was supposed to be doing with my life. I have not looked back, even when times are tough & sacrifices have to be made in order for Rx Laughter to continue on its path.
I envisioned Rx Laughter as a research-based, personalized, age specific entertainment system that would offer these comedy programs to seriously ill patients of all ages in all treatment areas at hospitals nationwide in a more humanistic, caring environment.
Seeing someone you love smiling & enjoying themselves for a moment, especially when they are ill, is a wonderful feeling. Children & teens are the most vulnerable & impressionable. So, it seemed natural to me to focus our efforts on helping seriously ill pediatric patients -- and that by doing so, we'd be able to help their family & close friends to feel better too. As we grew, we could then also include Adult patients of all ages. (This is now beginning to happen, thanks to so many people).
I chose UCLA School of Medicine for the start of Rx Laughter because of their renowned reputation and desire to find innovative ways of integrating emotional healing into the medical environment.
Dr. Stuber and Dr. Zeltzer, highly respected UCLA pediatric cancer researchers and physicians, were immediately supportive of my Proposal. Comedy Central became our seed funder. Our work began.
Since then, we have found intriguing preliminary data that suggests that children and adolescents who laugh while watching funny programs (television shows, films, cartoons) are able to withstand painful procedures longer and with less overall anxiety. Now, our work at Rx Laughter is focusing on putting these research findings into practical health care settings.
I cannot express my gratitude enough to Ian Cook MD at the UCLA School of Medicine for seeing the value in this project and to Dr. Stuber & Dr. Zeltzer for their leap of faith, their kindness & their devotion to our research in our first years. There are countless Volunteers, physicians, Child Life Specialists, psychiatrists and sponsors who put in countless hours of their time & have given of their resources wholeheartedly and without reluctance. It has made all the difference.
A very special thank you to Mr. Tony Fox and the team at Comedy Central. When early requests for funding were met with indifference or flat out rejection, Tony Fox and CC saw the need for comedy as a healer during medical treatments & took a huge leap of faith by seed funding our early research work with Dr. Stuber & Dr. Zeltzer. Comedy Central continues to support our work and for this, we remain forever grateful for "putting their money where their values are", so to speak. Thank you.
It is one thing to have a personal & professional dream -- it's another to find those who have the same dream and want to see it become a reality. I remain forever indebted to each & every person who has helped turn this from a concept into a real entity that helps people.
If you share my desire to improve health care so that it is more personalized, humanized and less frightening, please click on "How to Donate" and/ or "Benefits of Sponsorship" to become involved
If you have any questions, please email us at RxLproject@aol.com, or call us Monday thru Friday between 9am and 6pm PST. Our phone number is 805 927-4197.
My sincere hope is that you find this information enjoyable and informative. Let me know.
Warmest Regards,
Sherry Dunay Hilber
Founder, Rx Laughter